Charming self catering houses in the Loire Valley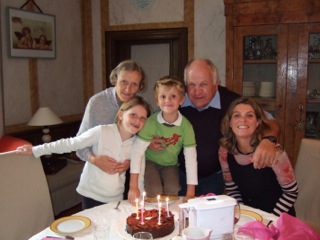 Welcome to the Château de la Guimonière, a family château of the 15th century, known for its prestigious wines. This authentic mansion is equipped with 2 charming self catering houses.
A unique place to experience the « douceur angevine » in Anjou, this amazing region of France where « life is sweet » !
Whether you are visiting our country by yourself, with your relatives or with a group, the Doucet family is happy to welcome you in the Loire Valley vineyards, at the ocean's door, close to Angers (49, Maine et Loire) in Rochefort-sur-Loire.
Your are looking for a calm and cosy accomodation, for 1 up to 4 persons. Feel comfortable in our Gîte du Parc for 1 to 4 persons. It is the most suitable for you !
You prefer to rent a house fully furnished to enjoy tranquility with your children and/or friends, our second Gîte du Vignoble for 8 to 10 persons, will surely meet your needs !
You are interested in a place to gather a group of 10 up to 14 persons, rent both gites together and enjoy an airy atmosphere of the recently renewed salon de l'Orangerie. Our 2 gites for a group of 10 to 14 persons are waiting for you !??
You can easily imagine, the nice time you will spend at the Château de la Guimonière, following your own rythm in the heart of :
The Loire Valley, classified a UNESCO World Patrimony,
Anjou region, a territory rich in History and French culture,
The vineyards surrounding the Château de la Guimonière :
Coteaux du Layon, Chaume, Quart-de-Chaume, Savennières, Bonnezeaux, Aubance, Saumur … and the sparkling Cremant de Loire
The magnificent and wild landscape of the Loire from Saumur to the maritime end of the river after Nantes
Come and experiment La Douceur Angevine... for real: life is so sweet in Anjou !
Feel free to contact us, we will be delighted to talk to you.??
What ever your question, whatever the season, the doors of this family château are wide open to you.
Isabelle Doucet
The Château de la Guimonière